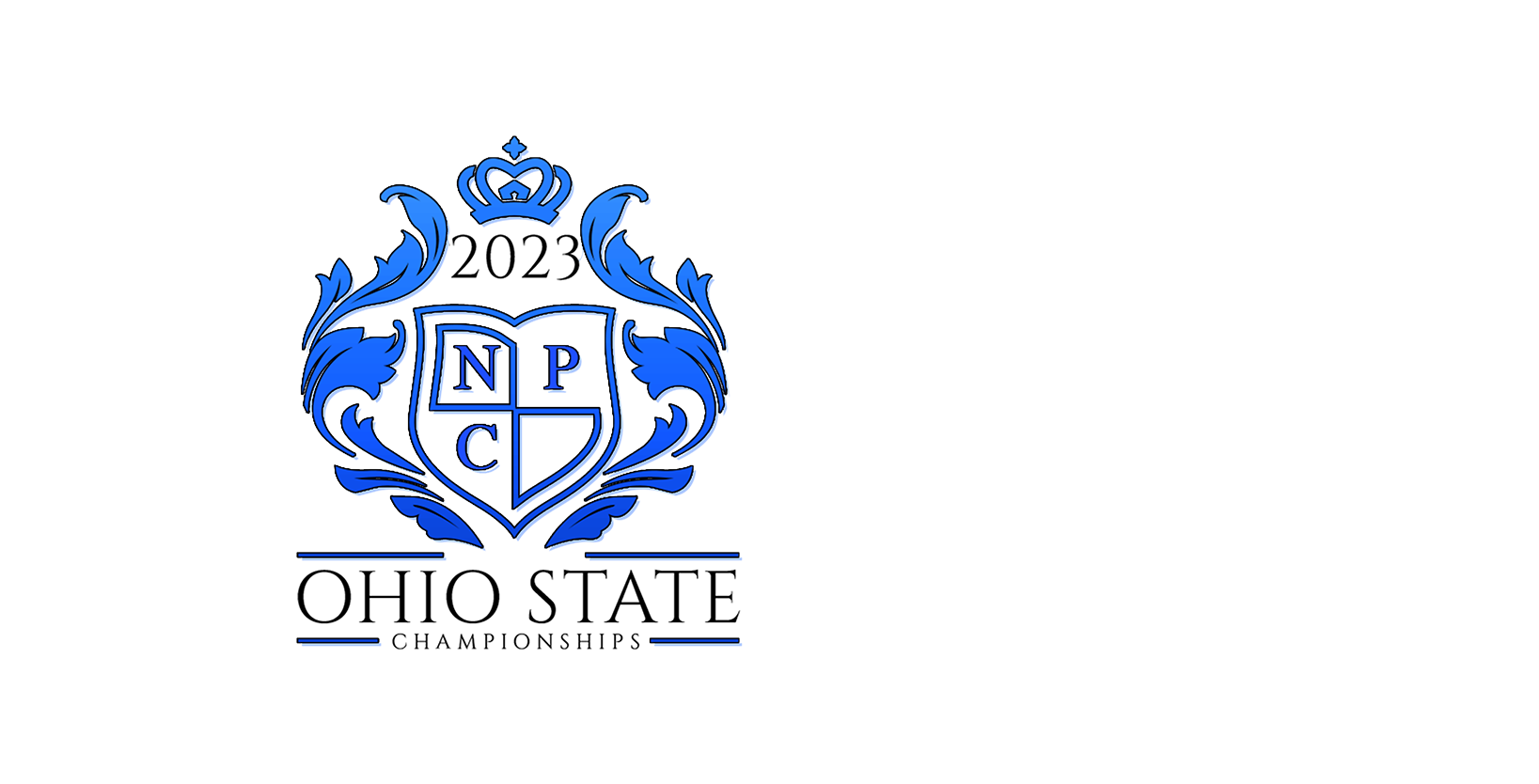 ATTENTION COMPETITORS AND SPECTATORS
The competitors meeting will be at the event venue at 9:00 am on Saturday, September 23rd for ALL COMPETITORS.
Pre-judging will start promptly at 10:00 am FOR ALL MEN'S AND WOMAN'S DIVISIONS.
Finals will occur after a 1-hour intermission for the judges and sponsors at the conclusion of the prejudging.
Be sure to notify your family, friends and supporters of these changes!!
Ohio Prejudging
MASTERS MENS BODYBUILDING
NOVICE MENS BODYBUILDING
OPEN MENS BODYBUILDING
MASTERS MENS PHYSIQUE
NOVICE MENS PHYSIQUE
OPEN MENS PHYSIQUE
MASTERS MENS CLASSIC PHYSIQUE
NOVICE MENS CLASSIC PHYSIQUE
OPEN MENS CLASSIC PHYSIQUE
CLOSED MR. OHIO BODYBUILDING
FITNESS PHYSIQUE ROUND
MASTERS BIKINI
TRUE NOVICE BIKINI
NOVICE BIKINI
OPEN BIKINI
MASTERS FIGURE
NOVICE FIGURE
OPEN FIGURE
WOMANS PHYSIQUE
WELLNESS
Ohio Finals
MASTERS MENS BODYBUILDING ROUTINES & AWARDS
NOVICE MENS BODYBUILDING ROUTINES & AWARDS
OPEN MENS BODYBUILDING ROUTINES & AWARDS
OPEN MENS BODYBUILDING OVERALL
MASTERS MENS PHYSIQUE CONFIRMATION SCORING & AWARDS
NOVICE MENS PHYSIQUE  CONFIRMATION SCORING & AWARDS
OPEN MENS PHYSIQUE CONFIRMATION SCORING & AWARDS
OPEN MENS PHYSIQUE OVERALL
MASTERS MENS CLASSIC PHYSIQUE ROUTINES & AWARDS
NOVICE MENS CLASSIC PHYSIQUE ROUTINES & AWARDS
OPEN MENS CLASSIC PHYSIQUE ROUTINES & AWARDS
OPEN MENS CLASSIC PHYSIQUE OVERALL
GUEST POSER:  NEW IFBB PRO STEVE SPAULDING
CLOSED MR OHIO ROUTINES & AWARDS
CLOSED MR. OHIO OVERALL
FITNESS ROUTINE & AWARDS
MASTERS BIKINI CONFIRMATION SCORING & AWARDS 
TRUE NOVICE BIKINI CONFIRMATION SCORING & AWARDS
NOVICE BIKINI CONFIRMATION SCORING & AWARDS
NOVICE BIKINI OVERALL
OPEN BIKINI CONFIRMATION SCORING & AWARDS
OPEN BIKINI OVERALL
MASTERS FIGURE CONFIRMATION SCORING & AWARDS
NOVICE FIGURE CONFIRMATION SCORING & AWARDS
OPEN FIGURE CONFIRMATION SCORING & AWARDS
OPEN FIGURE OVERALL
WOMANS PHYSIQUE ROUTINES & AWARDS
WELLNESS CONFIRMATION SCORING & AWARDS
ODU MATESICH THEATER
1216 SUNBURY RD COLUMBUS, OHIO 43219
Men's Division • 10AM
Women's Division • 3PM
$35.00
MEN'S/WOMEN'S PREJUDGING
$35.00
MEN'S/WOMEN'S AND FINALS 
$100.00
TRAINER PASS & ADMISSION
Registration Information
---
REGISTRATION FEES:
$155.00 AND $105.00 FOR CROSSOVER FEE
LATE FEES:
$25.00 AFTER FRIDAY SEPTEMBER 15, 2023
COMPETITORS CHECK INS:
FRIDAY SEPTEMBER 22, 2023
5:00 PM TO 8:00 PM
HOTEL LOCATION:
Hilton Garden Inn Easton
3600 Morse Rd
Columbus, Ohio 43219
Click Here to Book